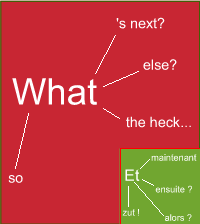 What is a virtual event in French, jointly organised by professional society « Conseil des Rédacteurs Techniques » and Paul-Valéry University Montpellier 3, and sponsored by TC Europe. It took place over the Internet from Wednesday 2nd till Friday 18th September 2020.
What offered 6 one hour webinars, followed by a 30 minute debate, and a closing virtual event.
Weezevents was used to pre-register for the free webinars: preregistered participants received the connection ID.
Wednesday 2nd September, 6 pm (Paris time): Home office and team work
Saturday 5th September, 6 pm (Paris time): Managing projects, groups, Agile or not
Wednesday 9th September, 6 pm (Paris time): Soft skills and non-verbal communication
Saturday 12th Septembre, 6 pm (Paris time): Setting the user in the centre for good
Monday 14th Septembre, 6 pm (Paris time): Video… what about doing it?
Friday 18th Septembre, 6 pm to 8 pm (Paris time)
– Last webinar: Technology and emotion (90 minutes)
– Closing session (30 minutes)
What learning days is a space to reflect on technical communication. It will entirely take place over Zoom. All sessions have been recorded and are available free of charge on CRT's web site. All webinars had a round table format, as to avoid the one-way one-truth conference format and to make them more lively.
What's logo displays the four guiding threads you can find on each round table page.
So what (current situation and practices)
What's next (tracks)
What the heck (identifying the obstacles)
What else (more tracks opening up the debate)
Members of the organising comittee were Jennifer O'Neill (Brussels), Françoise Jouan (Carentoir, France), Catherine Kirkby (Montpellier, France), Julie Sauvage (Montpellier, France), and Jean-Paul Bardez (Aix-en-Provence, France).
Event coordinator : Jean-Paul Bardez